We play music because we love it.
We play songs we like and we think that you will too.
We hope you are doing what you love, because that is what we are doing.

So please come and join us in the fun.
Jim gave a 13 minute talk during Homer's 10th Anniversary Party about how Homer's came to be. To listen or download as a MP3, CLICK HERE
For an upcoming schedule, CLICK HERE
_____________________________________________________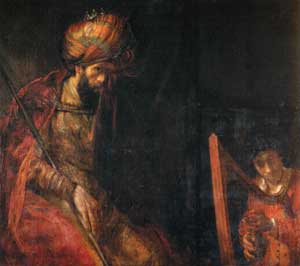 "Saul and David" by Rembrandt, 1606-1669, from the Mauritshuis Museum in The Netherlands
The Bible in I Samuel 16 tells an interesting story about Saul, King of Israel. The Bible says that an "evil spirit came over him." We might say he was depressed or had the "blues." Saul called his counselors and asked them to bring him a musician that could cheer him up. They found a shepherd named David who did the trick.
David went on to kill the giant Goliath and become king of Israel himself. He also became the most famous musician in the Bible, writing many of the psalms.
Rembrandt's painting pictures David playing for Saul. The song, "Saul Had the Blues," written by Jim Mathis, Bob Kaat-Wohlert, and Theresa Kaat-Wohlert also recounts this story in modern terms and relates David to modern bluesmen, B. B. King and Albert King.
Read I Samuel 16, beginning in verse 14, and then come to the next Sky Blue concert to hear "Saul Had the Blues." "Saul Had the Blues" is also on the Sky Blue CD, "What Would Jesus Drive?"

__________________________________________________________________
"Completely enjoyed the music and fun, Jim! Thank you and other members of Sky Blue for a great evening at Homer's Coffee House. Want to invite others and come again! Blessings to each one of you! " Chris J.
"The music is a nice blend of smokin' guitar work and soulful singing. Sky Blue's debut is a great offering of music not too common in the contemporary Christian music market, and suggests some great things to come from this quartet." Metro Voice
For your copy of the "What Would Jesus Drive?" CD, click "Add to Cart" below, put a check in the mail, or give us a call with your credit card, and we will pay the postage.
"What Would Jesus Drive?" is now available on CDBaby.com, Amazon.com , and iTunes.
Learn more about the stories behind the songs.
Sky Blue
11035 W 96th Place
Overrland Park, KS 66214
913 269-6709
| | |
| --- | --- |
| | |
| What Would Jesus Drive? CD-$12 | Sky Blue Live at Homer's CD-$10 |
| | |

www.PickinonthePatio.com

Get your SKY BLUE T-shirts HERE
Who is Sky Blue?
Well, we aren't kids. We are boomers who have been playing music our whole lives. We are not trying to relive our youth or bring back the past. We believe we are in one of the most creative periods of our lives, writing, recording, and performing new music every month.
We are not a bar band or a garage band. We have been there and done that - 'nuf said.
We are Christians and our music reflects that point of view, but we are not a praise band or worship band. Our goal is to entertain you. Praise and worship music has a different purpose.
We started out as a Christian Blues Band, but even though "blues" has a big palette, we soon realized that that title was too confining for what we do. "Family-friendly blues-rock" seems sufficently broad, but it still doesn't quite express our music. We sort of like "Christian Rockabilly Blues" but, we are open to suggestions.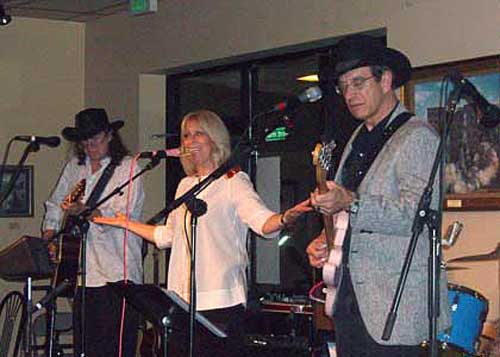 Here's what others have said:
My husband and I loved Sky blue last Saturday at the Black Creek Coffee House in Leawood, Kansas. The band featured a little bit of rock, a little bit of country, folk, & bluegrass. Some Christian themes sprinkled in with some audience participation certainly added to the feel. The band enjoys each other and their audience and one can tell they have a passion for what they do. For a nice, laid back, enjoyable time I recommend catching them at their next gig for your listening pleasure!"
Linda M.- Leawood Chamber of Commerce.
"Sky Blue is one of the best bands that I have come across, both in my life and in the Coffee Shop realm. Their style of music is not only refreshing and professional, but it attracts the listener with anticipation and satisfaction. Their performance is geared for family as well as the individual. You will never go wrong with this wonderful band, and we found that out for sure when they played at Oasis Coffee Bar, so I highly recommend Sky Blue for any kind of venue." Rick Bell, The Oasis Coffee Bar is that weird instrment Ji
Recent quotes:
"I had no idea you guys were so good. I would have come to hear you sooner." Terry
"Who Knew?" Donita
"I haven't been to Homer's Coffee House because I didn't know what kind of music they had. If this group is typical of Homer's - I'll be there. They're great!" overheard at the Overland Park Farmer's Market Concert.
"Man, you're GOOD!" Kenny Gamble at Rock the Light.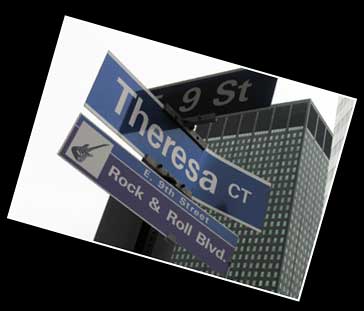 "The Fender Stratocaster was a much better invention than the AK-47."