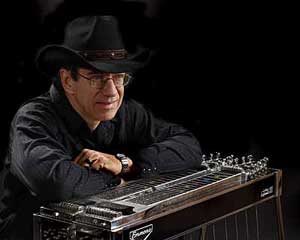 Jim Mathis was raised on Western Swing, when Bob Wills was still the king. He wanted to play the steel guitar before he was old enough to see over it. When they wouldn't let him play steel guitar in the high school marching band, he took up the tuba. Consigned to the low end, he made his mark on the '60s music scene as a bass player before pursuing a 25-year career as a professional photographer.
When he received his AARP card, he realized he could either rock on the front porch or on the stage, so he traded in his rocking chair for a guitar. Sky Blue fulfills a long time goal of playing pedal steel guitar in a blues band.

Jim serves as the band's manager and encourager. He is also a professional photographer based in Overland Park, Kansas serving the metro Kansas City area. Please visit www.MathisPhoto.net for more information.
To learn more of Jim's story - buy the book, "Saving the World..One Latte at a Time, the Story of Homer's Coffee House at Amazon.com.
Learn more about pedal steel guitar....
To read Jim's weekly comments on faith, work, and play, click here.