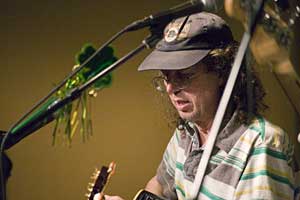 Bob Wohlert grew up loving the guitar. He went to college and majored in music education and classical guitar intending to teach music. After a parochial school assignment fell through, he began teaching in a local music store in his home town of Alton, Illinois and playing in local rock bands.
Through a traumatic family experience, he turned to God and made a decision to become a follower of Jesus Christ. His new church home frowned on rock and roll and guitar music in general, so he sold his guitars, but saved one in the back of the closet. Over time the stress of caring for a disabled child and money issues became too much for his wife and the family broke up.
Bob could have fallen into the depression that was already gripping him; instead he realized that God was giving him a chance to start over. After fifteen years, he got the guitar out of the closet. He played three or four hours every night for a year, until he had the nerve to answer a newspaper ad for a band that was looking for a guitar player. By now Bob was mature enough in his faith to know that God had given him a gift and that it would be disobedient not to use it.
He began playing in a church praise band. It was there that he got to know Theresa Kaat. Theresa was recovering from a divorce and was just beginning to rediscover her gift of music.
Their musical partnership led to marriage and they became the Kaat-Wohlerts. Bob and Theresa now work together as a musical team leading worship, playing in several musical groups, and teaching.